Emergency Dentist in Browns Plains
There are many reasons why patients need an emergency dentist in Browns Plains. Dental emergencies can occur at any time. The team at Brite Dental Group is here to help patients with last minute appointment requests so that they won't have to cope with oral pain for longer than they need to. 
To get immediate assistance with a toothache or any other dental emergency, call +61 434 921 570
Do I need emergency dentistry? Call us if…
Browns Plains Dentist Location
Brite Dental Group
3282 Mount Lindesay Hwy,
Browns Plains,
QLD 4118,
Phone : 0434921570
OUR HOURS
Monday: 8:30 am to 5.00 pm
Tuesday: 8:30 am to 5.00 pm
Wednesday: 8:30 am to 5.00 pm (late evenings by appointment)
Thursday: 8:30 am to 5.00 pm (late evenings by appointment)
Friday: 8:30 am to 5.00 pm
Saturday: 8:30 am to 12:30 pm (closed every alternate Saturday)
Sunday: Holiday
Dental emergencies: reasons for seeking care
According to the Australian Dental Association, adult tooth damage is caused most often by playing sports. The athletic activity covers all types and creates the need for emergency appointments in Browns Plains. Even a backyard game can result in someone damaging a tooth or someone knocking out someone's tooth. Children who play sports are equally at risk. Although you can protect yourself against a dental emergency by wearing mouth guards, emergencies can still happen. In an emergency, call 0434 921570.
Another leading cause of tooth damage is road accidents. Although your teeth's enamel is hard and durable, it might not be strong enough to safeguard against a collision with the steering wheel. Moreover, tooth damage is a common consequence of automobile accidents. After being in a car accident, Brite Dental Group, Browns Plains recommends that patients get examined at a local emergency room to make sure they have not been physically injured. Then, call us to schedule an appointment. Because tooth damage cannot be treated in an emergency room, you will need to see both types of providers.
Dental Emergency in Browns Plains
Another problem that leads to emergency dental care in Browns Plains is severe and sudden toothaches. By examining your teeth, we can determine what is causing the pain. The cavity may have grown into a big one and now requires a root canal. Gum disease is another possibility that could result in the gums receding, revealing the teeth and roots. It is both painful and requires immediate treatment. Taking care of our patients as quickly as possible will ensure that they remain comfortable and free of dental pain.
Dental abscesses can result if an infection is not treated in time. The pain can be excruciating. The abscess is the result of an infection of your tooth that may spread into your jawbone and into your mouth. Surgical intervention may be needed if it does. Our dentist can inform you if we see an abscess during your dental exam.
While waiting for an emergency dental appointment, how can I relieve dental pain?
It is possible to remain comfortable and live a pain-free life with our help. Brite Dental Group, Browns Plains, will determine what is causing pain and what options are available to treat it if you visit us experiencing pain.
We may also prescribe medications to help relieve the pain. As a result, you will not feel any discomfort during your appointment as well as at home.
You may also apply a cold compress or ice pack to the area to reduce swelling.
Dental Emergency: Options for treatment
If you have lost a tooth…
After a tooth is knocked out, do not wash it with water. only remove the gross debris and rush to the dentist. Keep the knocked out tooth moist, as in cover in a napkin with some spit, or put it in a container of milk. Rinse the mouth thoroughly to remove dirt and debris. If possible, we will try to save the tooth. Otherwise, we will discuss replacement options. We may recommend dentures, dental bridges, or dental implants.
In the event of a broken tooth…
Many people damage a tooth while playing sports or in an accident. It is not uncommon for a tooth to crack or chip. If the tooth structure remains intact, there are many types of dental treatment that can be used. We can restore a patient's teeth in many ways. This includes dental veneers and dental crowns. Moreover, they both provide excellent results and can completely restore the functionality of your tooth while maintaining its natural appearance. In addition to restoring your tooth, we can also help you achieve the goals you have for your smile by providing you with information on what the best options are for restoring your tooth. Call 434-921570 to schedule an appointment.
When a tooth becomes infected…
The emergency dentist will assess the situation and inform you on where the infection lies and how it can be treated. Our goal is to keep you comfortable, healthy, and pain-free. You can rely on us to remove infection and maintain excellent oral health. No matter whether we are treating a dental abscess or a general cavity, we are able to help a tooth be free from infection and pain. Our solution keeps patients comfortable during any procedures.
Why do I need an emergency dentist?
In addition to providing our patients with a comfortable and pain-free treatment, Brite Dental Group strives to keep them safe from injury. Consequently, we are aware that many dental emergencies are unexpected.
Contact 0434 921570 right away if you are experiencing tooth pain or damage to your tooth so that we can schedule an appointment and treat the issue as soon as possible. In order to effectively relieve your oral pain, we do our best to accommodate your schedule.
Although many dentists require patients to schedule appointments ahead, our team will work with you to get the treatment you need as soon as possible. Additionally, keep a healthy diet all year long and get teeth cleaned twice a year to avoid most dental emergencies.
Q. When the permanent tooth of my child is knocked out, what should I do?
A. The first step is to locate the tooth and rinse it gently in cool water. If possible, replace the tooth in the socket immediately and hold it there with clean gauze or a washcloth (don't scrub it or use soap). In the event that you can't place the tooth back into its socket, place it in a clean container with cold milk, saliva, or water. Contact an emergency dentist immediately. If you act quickly, you may be able to save the tooth.
Q. What should I do if my child has a toothache?
Contact us right away. You may be able to relieve the pain with over-the-counter children's pain medication that is dosed according to your child's weight and age. Also, use a cold compress or ice wrapped in a cloth on the sore area of your child's face, but do not apply heat.
Q. What should I do if my child has a toothache?
We encourage you to contact us right away. You may be able to relieve the pain with over-the-counter children's pain medication that is dosed according to your child's weight and age. Also, use a cold compress or ice wrapped in a cloth on the sore area of your child's face, but do not apply heat.
Q. My child's baby tooth was knocked out. What should I do?
As soon as possible, contact your dentist. Replanting a baby tooth could result in damage to the developing permanent tooth.
Q. What should I do if a tooth is chipped or fractured?
Contact your dentist right away. An immediate action can prevent infection, save the tooth, and reduce the need for extensive dental treatment. If the lip is also injured, rinse your mouth with water and apply a cold compress to reduce swelling. In case you can locate the broken tooth fragment, you should place it in milk or water and bring it to the dentist.
How do I get an emergency dentist to see me?
Call the dentist's office and state the emergency. The doctor will try to accommodate you as early as possible.
What is considered a dental emergency?
Severe toothache, tooth knocked off, injuries to mouth, broken tooth, lost filling, loose crown are all considered dental emergencies. 
Dental Emergency Terminology
Wisdom teeth that partially erupt from the gums or do not completely emerge from the gums can cause pain and infection.
An abscess forms on the root of a tooth as a result of a bacterial infection.
Among the causes of a tooth fracture are accidental elbows to the face, biting on something really hard, falling face-first, and so on.
In an avulsion, a tooth completely separates from the socket, either from an accident. Replanting the tooth is possible.
In the case of facial cellulitis, an abscess or plaque in the teeth causes an infection that causes pain and spreads to other parts of the face.
Pericoronitis occurs when tissue surrounding a tooth does not fully erupt from the gum line, which causes pain.
When the patient removes the hot or cold substance that is causing the tooth pain, the pain remains. This is irreversible pulpitis.
A lateral luxation occurs when a tooth moves in the wrong direction while still attached to the gums.
You might be also interested in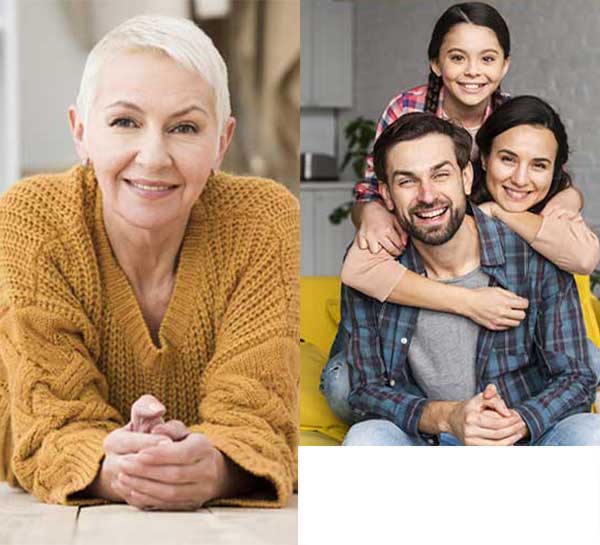 Family Dentist in Browns Plains
This family dentist in Browns Plains also provides a full range of dental services including root canal treatment, fillings, extraction of teeth, cleaning and polishing, dental implants, dentures, veneers, crowns and bridges, tooth whitening, custom fitted mouth guards, as well as preventive dentistry for children.
Call us to schedule your comprehensive dental exam now at +61 434 921 570.